26th August 2010
The God(wit) Squad at Siglufjörður this Summer.
There is no rest for the dedicated volunteers in Operation Godwit. The work ultimately helps us understand more about the godwits and their environment which in turn provides valuable information which can be used to help protect this amazing birds and their wetland home in Iceland and across western Europe.
This July the annual trip by Pete Potts and his team from the Farlington Ringing Group in England took place .Other teams, also from the project, from Portugal and the Netherlands also worked in Iceland this summer. Guðný Róbertsdóttir and students from Grunnskóli Siglufjarðar, twinned with Scoil Iosaef Naofa, took time out from their summer holidays to help the team catch some godwits at Siglufjörður and here is Pete's report of the trip:
The team did very well indeed and we ringed a record number of birds in total: 306 chicks and 138 adults plus 12 retraps.

The chick total is the second highest and the adult total ringed was the highest by a long way - all cannon-netted bar the 12 phalaropes mist-netted. We also ringed more Ringed Plover and Spoi (Whimbrel) chicks than in any previous year.

Our godwit chick total of 71 was the 4th highest but under half that of the record year in 2006 - half of this years godwit chick total was down to hard work of Astrid and Marjan! Of our 71 godwit chicks most were well grown and only 8 required small colour-rings so we should get a high reporting rate as compared to marking recently hatched birds.

Jose Alves has marked c.50 recently hatched godwit chicks in nests and c.25 adults nest trapped this summer in the south of Iceland around Selfoss as part of his University of East Anglia post-doc work I am not sure of the exact totals, but an excellent job done - well done!

So over the 11 summers we have been now visiting Iceland to ring godwits we have marked 620 chicks and 104 adults.

We have now ringed 1860 wader chicks of 10 species between 1999 and 2010 (NB there was no trip in 2003).So thank you again to all the volunteer team members for taking part and being such a fun and hard working group of people to travel with.
A big thank you to all our friends in Iceland that make the trip possible and enjoyable especially Avear for providing the rings, Mummi for the loan and storage of the cannon-net kit, Boddi og (and) Peta, Guðný og Orlgur, Laki og Luka for arranging permissions and of course to our dear friends Tomas og Linda who we just don't see enough of these days! Finally a big thank you to all our friends in Iceland for your great company and warmly welcomed hospitality! Thank you on behalf of the team.
Note: Some of the godwits ringed by Pete and the team this summer in Iceland have already been seen in Britain and we look forward to seeing some of them in Ireland this winter.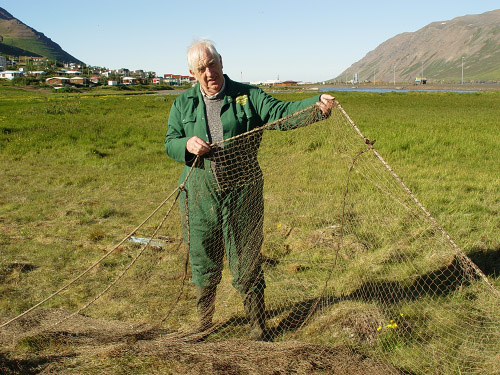 Wilf checks the net before setting it in place. (photo ©Sigurður Ægisson)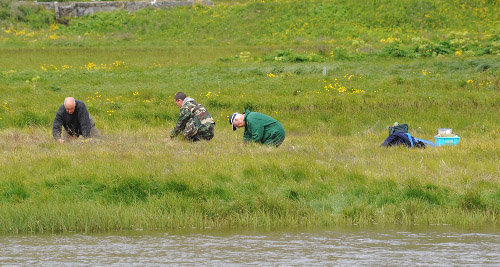 Peter, Andy and Wilf set the net at a godwit roost site. (photo ©Sigurður Ægisson)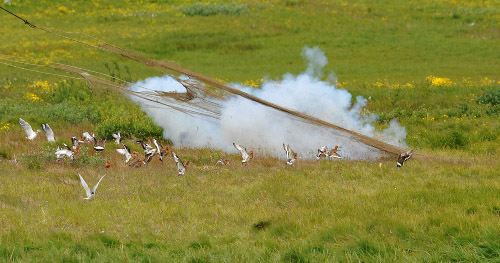 The net is fired so quickly that none of the birds come to any harm. (photo ©Sigurður Ægisson)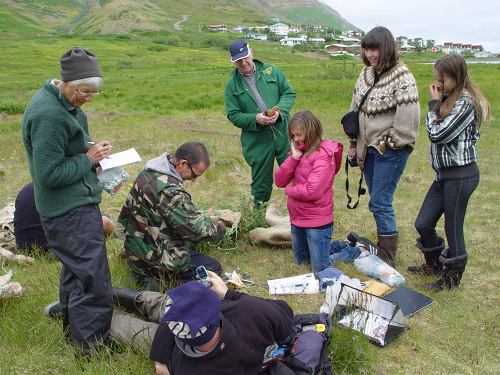 Guðný, pupils and the team get ready to ring the godwits. (photo ©Sigurður Ægisson)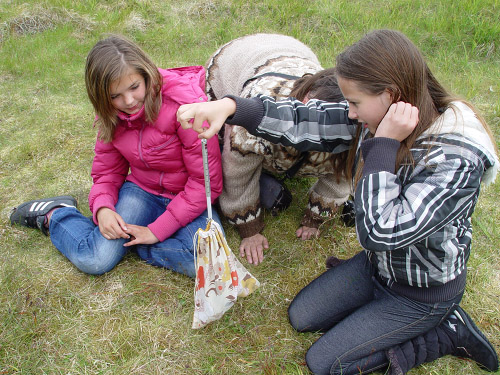 Guðný, Stefanía and Eyrún weigh a godwit. (photo ©Sigurður Ægisson)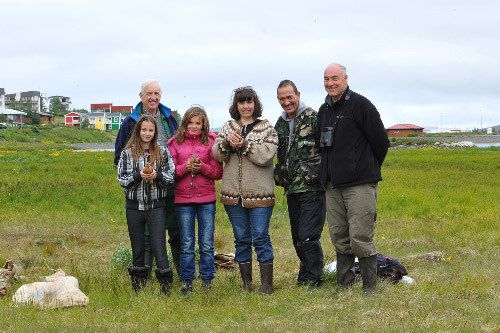 Guðný, Stefanía, Eyrún, Wilf, Andy and Pete with three newly ringed godwits.
(photo ©Sigurður Ægisson)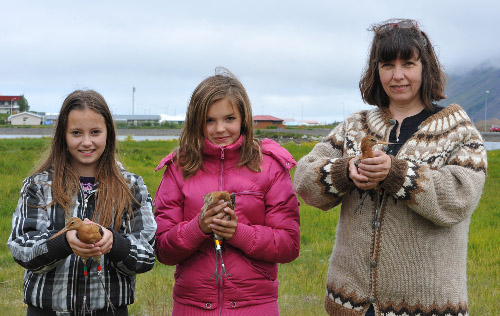 Guðný, Eyrún and Stefanía with three godwits ready for release. (photo ©Sigurður Ægisson)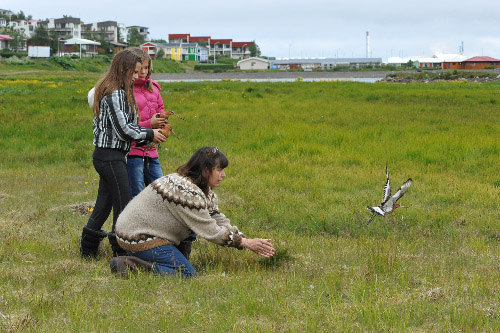 Guðný releasing one of the godwits. (photo ©Sigurður Ægisson)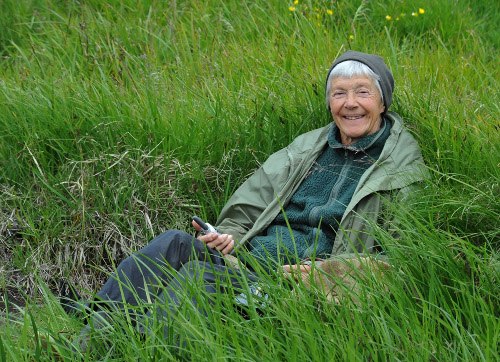 Team member Ruth Croger takes a well earned rest after a successful day.
(photo ©Sigurður Ægisson)
Click here for Godwit News Archive