8th August 2009
Successful Ringing Trip to Siglufjördur!
Report by Jim Wilson: For the first three weeks in July Pete Potts and an international group of dedicated godwit colour ringers were in Iceland to ring more black-tailed godwits for the project. It was a huge success with a total of 88 godwit chicks and 29 adults colour ringed, so plenty of colour ringed birds for the pupils to look out for in the coming years! I will luck enough to join Pete and his team in northern Iceland. I traveled with my nephew Mark Carmody, and John Murphy and Stan Nugent from Waxwing Productions who were there filming our adventure. We spent a few days catching godwit chicks in the Langhus area to the east of Siglufjördur and were delighted to be able to help with the catching of 29 adult godwits at Siglufjördur using cannon nets. I was delighted to meet Guðný Róbertsdóttir, class teacher from the school twinned with Scoil Iosaef Naofa in Cobh. We have been in email contact since the start of the schools godwit project and it was great to finally meet Guðný. We presented her with two hurleys and a sloither as well as a few jerseys.We will be looking forward to the first Ireland v Iceland hurling game in a few years time. The day we caught the godwits using the canon nets was a very memorable one for me. Siglufjordur is set in the most amazingly beautiful fjord, the sun shone all day and some of Guðný's pupils and their parents turned out to give a hand. We had a great day. Our visit has strengthened the links between us and our towns and we hope there will be more exchanges in the future. We were sad to leave Siglufjördur and our friends there. Hopefully it won't be too long before we meet again.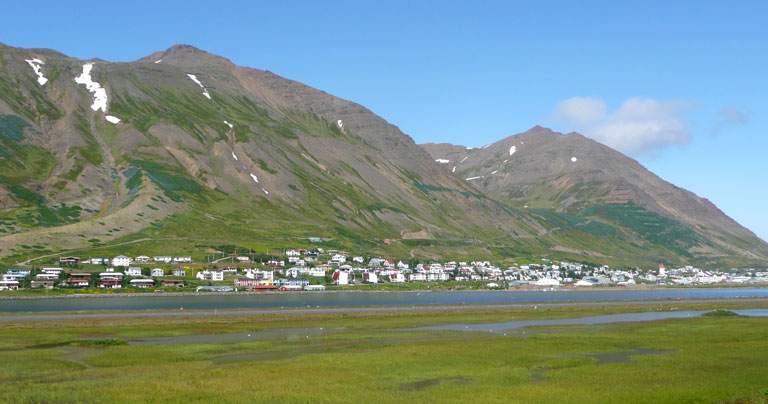 Siglufjordur basking in the summer sun. (photo © Jim Wilson)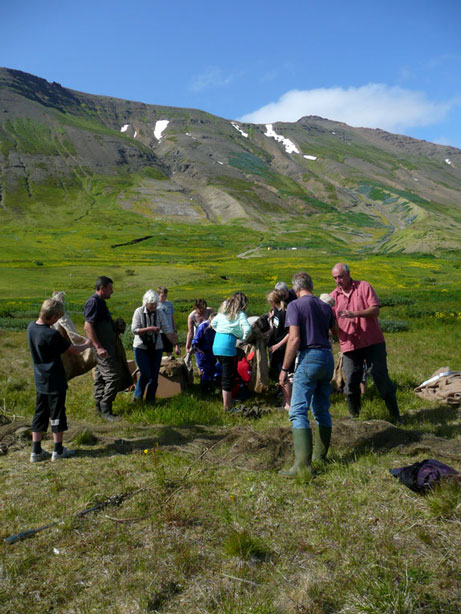 All hands on deck to look after the godwits caught in the net. (photo © Jim Wilson)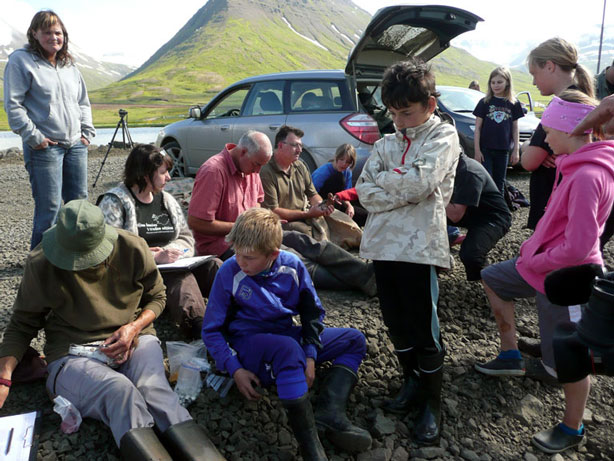 Pupils, teacher, parents and the godwit ringing team ringing the godwits.(photo © Jim Wilson)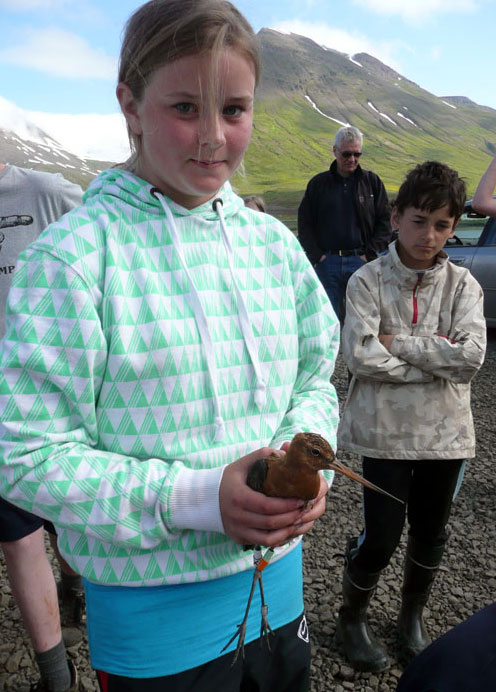 Karen Ósk Jónsdóttir about to release a colour ringed godwit.( photo © Jim Wilson)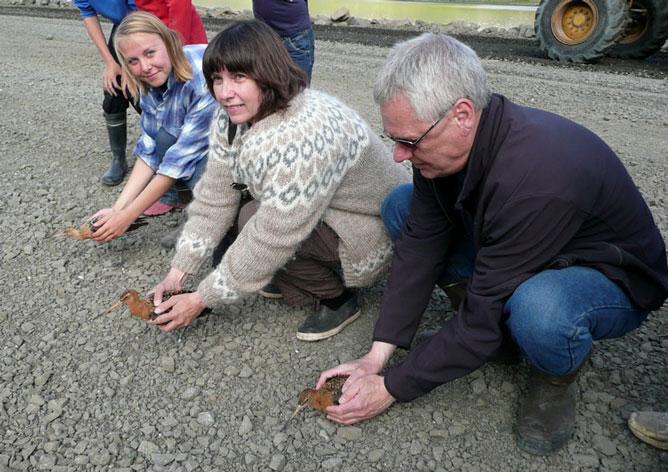 Colour ringed godwits about to be released. Next stop Ireland?( photo © Jim Wilson)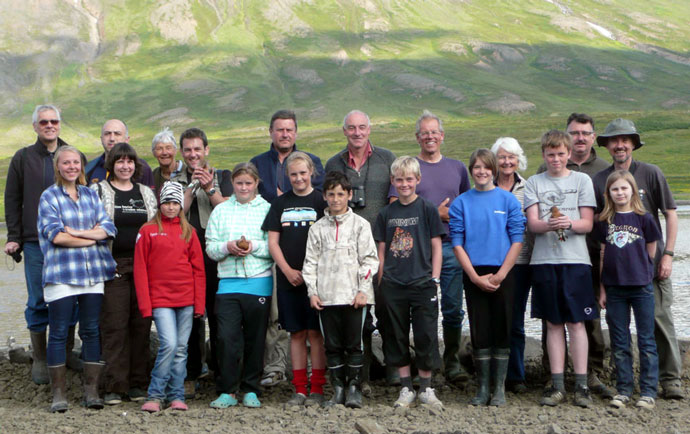 The Siglufjordur godwit ringing team. Back row from left: Björn (father of Markús Romeó), Stan Nugent, Ruth Croger, Mark Carmody, Guillaume Gélinaud, Pete Potts, David Price, Elizabeth Price, John Murphy, Jim Wilson. Front Row from Left: 'Vala' Valgerður Sigurðardóttir, Guðný Róbertsdóttir (teacher), Eyrún Brynja Valdimarsdóttir, Karen Ósk Jónsdóttir, Sylvía Ósk Halldórsdóttir, Markús Romeó Björnsson, Patrekur Þórarinsson, Franzisca Dóra Úlfsdóttir, Torfi Sigurðarson and Dagrún Birta Gunnarsdóttir. Stefanía Þórdís Grétarsdóttir and her mother Valdís María were there helping a lot but they had to leave before the picture was taken.
( photo © Jim Wilson)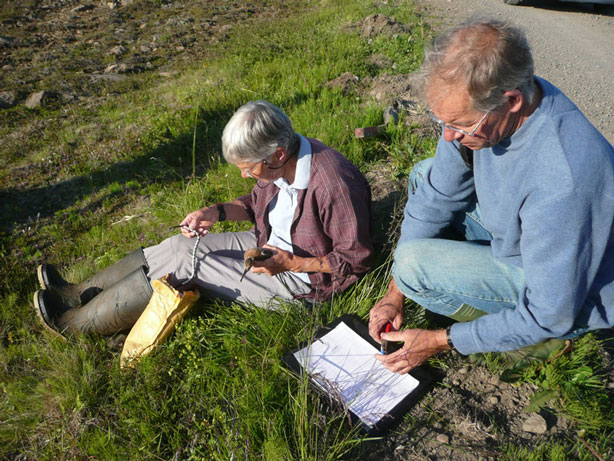 Ruth Croger and David Price preparing to colour ring a godwit chick at Langhus near Siglufjordur.
( photo © Jim Wilson)
A well grown godwit chick at Langhus, near Siglufjordur. (photo © Jim Wilson)