18th September, 2008
Using a mobile phone camera to photograph colour ringed Godwits!
Report from Jim Wilson: Got a chance on Tuesday last to check some of the godwits in Cork Harbour for colour rings. I was luck to find two colour ringed birds among over 800 Icelandic Black-tailed Godwits settling back here after their summer in Iceland. There were good numbers of birds born this summer present, about to spend their first winter outside Iceland and recognisable by their tan coloured plumage on the head and breast. They were scattered across the mudflats at Glounthaune and Slatty Bridge. My mobile phone has a small camera in it and I was able to get the photos here of Orange Lime/Orange X by lining up the tiny camera with the eyepiece of my telescope. I was really amazed with the results! I think this is a bird that had been in Cork Harbour a few times before and as soon as the class get the migration history from Sigga Betta in Iceland I will let ye know exactly where it has been seen before now. Lets hope we see many more over the winter.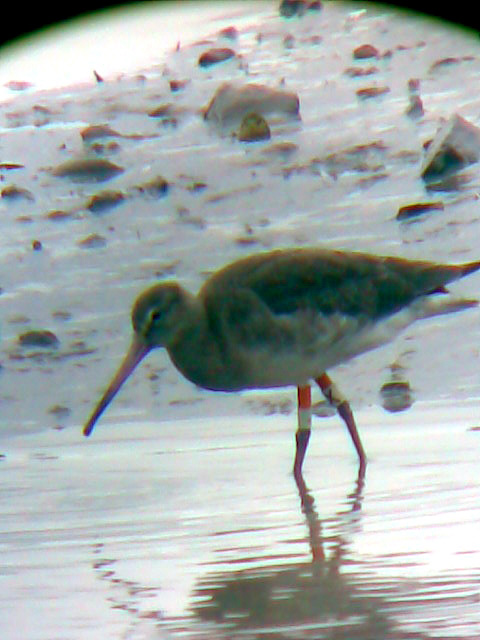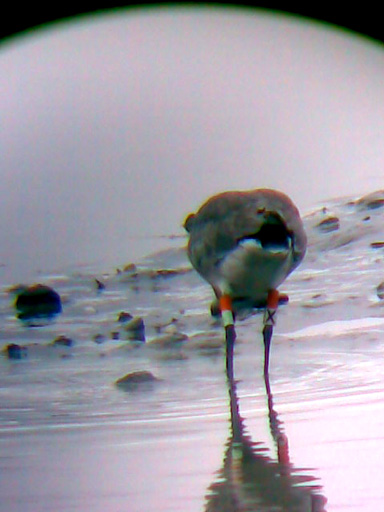 OLOX photographed using a mobile phone camera and telescope (photo © Jim Wilson)